The Certification Scheme
---
9th October 2007.
The Hull Fairtrade City Project Certification Scheme is suspended until further notice.
Our scheme pre-dated Fairtrade Foundation's Fairtrade Churches and Fairtrade Schools certificates, and made greater demands than the Foundation. Therefore our certification scheme needs to be redeveloped to be more compatible.
Also, we have limited resource for the administration of the scheme and we have given a less than satisfactory service to some applicants.
Any person who might wish to redevelop the scheme on our behalf should contact the steering group.
---
Introduction
An organisation that has been supporting Fairtrade for a while, and is committed to the continuation of that support is very important and valuable to the Fairtrade movement. We wish to acknowledge that support and commitment by the issue of a "Certificate of Membership" of the Fairtrade City Project.
The member organisation benefits because their status as a supporter of Fairtrade is noted and made visible to members and to the public, and the Project Steeering Group benefits by having a measure of the support from the community at large.
So the two key reasons for having this certificate scheme are:
· To register and enable the Project Steering Group to help organisations that are supporting Fair Trade in Hull and the surrounding area
· To enable those organisations to make their support of Fairtrade visible in a consistent and recognisable manner.

See the Introduction again
---
The Scheme
The scheme is available to all organisations in Hull and the surrounding area.
Organisations vary widely in size and it may be that a part of the organisation supports Fairtrade (for example a department within a company) whilst the rest of the organisation is further behind on "the learning curve". The part that supports Fairtrade is encouraged to apply for the certificate.
The workings of the scheme have been kept as simple as possible:
· Any organisation that is supporting Fairtrade can apply for a certificate
· Application is by submission of a completed application form to the Steering Group.
· The application is assessed by the Project Steering Group and if successful the certificate is issued for a period of 1 year.
· Towards the end of the year organisations will be asked to review their commitment to Fairtrade and to apply for renewal of the certificate.

Certificates are issued jointly by Hull City Council and the Hull One World Shop.
See the Certification Scheme again
---
The Six Steps to Fair Trade Status.
For any organisation to be a Fair Trade Organisation, the following steps need to be taken:
Step 1 Demonstrate support
The organisation must demonstrate support in a practical manner by purchasing and using Fair Trade products.
Step 2 Understand what Fair Trade Means.
Receive a presentation on, or learn by other means what Fair Trade is all about, and accept that the issues are relevant to the organisation.
Step 3 Take a Policy Decision.
The Management Team or Policy making group within the organisation needs to decide to support Fair Trade and then must draft a policy statement in support of Fair Trade.
Step 4 Ensure On-going Support
The organisation must assign responsibility and define a review process to ensure that Fair Trade continues to be supported over time. The implementation of an agreed policy will probably be allocated to an individual within the organisation.
Step 5 Educate Members.
The management of the organisation needs to communicate the policy and the means of implementation to the members, and to make Fair Trade information and education available to members or employees.
Step 6 Integrate Fair Trade into the Life of the Organisation.
In relevant retail and catering outlets, Fair Trade products should be sold to the general public.
Integration Examples:
In Schools Fair Trade can be used in R.E., Citizenship, Geography, Economics, Design Technology, Graphics, etc.
In Faith Communities, Fair Trade can be a focus of practical work, outreach, witness, prayers and lifestyle.
See the Six Steps again

---
What you need to achieve to get the certificate
The minimum requirement is to have completed steps 1, 2, and 3 of the six steps. So you need to be supporting fair trade, be educated about fair trade, and to have a documented policy of support in place.

---
How to Apply for a Certificate
Once you are happy about steps 1, 2, and 3 of the six steps, then obtain an application form, fill it in (unless you are American in which case you "fill it out"), and send it back to the Project Office.

To obtain an application form:
Contact the Project Office, in writing, by e-mail or by telephone.
or
Download the application form directly to your computer. Click Instructions for information on the download process.
---
What to Expect
The Fairtrade City Steering group will:
In general:
Respond to queries and requests for support in a timely manner
Respond fairly and promptly to your application
Protect your right to privacy.

Also
Acknowledge your application by return e-mail or letter
Clarify any items with you
Tell you when the application will be assessed
Tell you the result once the assessment has taken place
(Hopefully) Provide you with a certificate
Support your journey through the "six steps."

---
See the "What you need to achieve" again
Who is already certified?
The following certificates have been awarded:
14th June 2003: 03-001 - One World Shop, Waltham Street, Hull.
14th June 2003: 03-002 - Hull City Council, Alfred Gelder Street, Hull.
6th March 2004: 04-001 - Hull Cityventure, Queen Street, Hull.
6th March 2004: 04-002 - Co-operative Bank, Alfred Gelder Street, Hull.
6th March 2004: 04-003 - St. Ninians and St. Andrews United Reformed Church, Chanterlands Avenue, Hull.
6th March 2004: 04-004 - St. Mary's College, Cranbrook Avenue, Hull.
6th March 2004: 04-005 - Credo!.
6th March 2004: 04-006 - Costa Coffee, King Edward Street, Hull.
6th March 2004: 04-007 - Cottingham Road Baptist Church, Hull.
6th March 2004: 04-008 - Holy Trinity Church, Hull.
6th March 2004: 04-009 - Andrew Marvell School, Barham Road, Hull.
6th March 2004: 04-010 - Hitchcock's Vegetarian Restaurant, Bishop Lane, Hull.
6th March 2004: 04-011 - St. Anthony's Roman Catholic Church, Beverley Road, Hull.
6th March 2004: 04-012 - Methodist Central Hall, King Edward Street, Hull.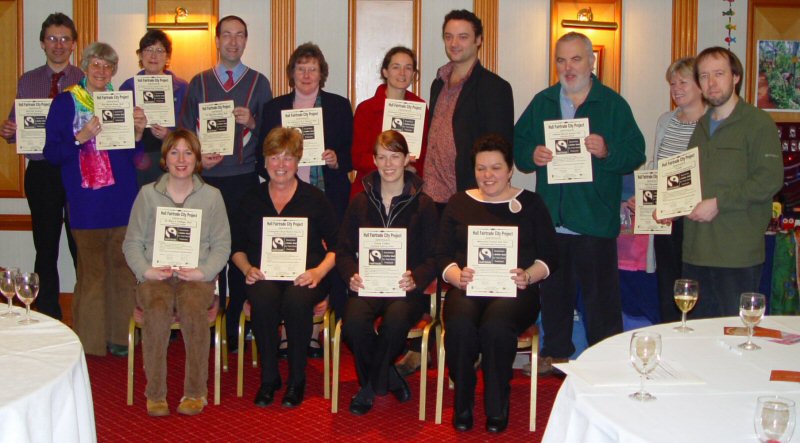 21st April 2004: 04-013 - Grain Wholefood, 25 Newland Avenue, Hull.
21st April 2004: 04-014 - Requested anonymity.
1st November 2004: 04-015 - Trinity Methodist Church, Newland Avenue, Hull.
1st November 2004: 04-016 - Hull and East Yorkshire Credit Union.

See those already certified again
---
Download Documentation
Scheme Details
MS Word Format, 51kB download: DOWNLOAD CERTIFICATE SCHEME DESCRIPTION now.
Application form
MS Word Format, 50kb download: DOWNLOAD APPLICATION FORM now.
---