James Haxby Crimlis, Filey, 1880 - 1949

P018:
b. 1880;
m. 1905;
d. 1949
James Haxby Crimlis was the first child of Joseph Crimlis and Mary Wheeler.
See: Chart F016

1880: James Haxby Crimlis's birth was recorded in Filey. 1

1881: UK Census:2
Joseph , Mary and James Haxby Crimlis (11 months) were recorded as boarding in Mitford Street in Filey with Mary's mother, Elizabeth Wheeler. See Filey 1881.

1891: UK Census:3
James Haxby Crimlis (aged 11) was recorded as boarding in Chapel Street in Filey with his paternal grandfather and extended family.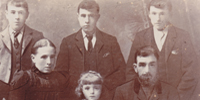 1905: James married Jane Hannah Stephenson in Filey.4
1908: John Wheeler Crimlis was born.

1911: UK Census:
James Haxby Crimlis (Plumber aged 30) was living with his wife, Jane , and 3 year old son John, in York, see York 1911 for details. The census return indicates that James and Jane had a child prior to 1911, other than John, but who was no longer living.
1922: Jennie Crimlis was born
1922: Margaret Crimlis was born
1922: Jennie Crimlis died
1922: Margaret Crimlis died
1949: James died in Filey aged 69.5

See: Chart F018

---
Sources:
1) FreeBMD:
GRO Scarborough Volume 9d Page 347, accessed 22nd October 2013.

2) Family Search :
PRO RG11, Piece 4801, Folio 18, Page 30.
Ref:
"England and Wales Census, 1881," index, FamilySearch (https://familysearch.org/pal:/MM9.1.1/X3F1-4MT : accessed 22 Feb 2013), James H Crimlis in entry for Elizabeth Wheeler, 1881.

3) FindMyPast : PRO RG12, Piece 3962, Folio 31, Page 4.

4) FreeBMD:
GRO Bridlington Volume 9d Page 687, accessed 22nd October 2013.

5) FreeBMD:
GRO Scarborough Volume 1b Page 859, accessed 22nd October 2013.


---