Catherine McDevitt
Catherine McDevitt, Co. Donegal, Ireland, 1807 - 1873

P002: A.k.a. Catherine Crimlisk by marriage
b. 1807, Co. Donegal, Ireland;
m. 1825 ?? to Thomas Crimlisk;
d. 1873, 24th March, aged 65, of dysentry.
Catherine's parents were: Neil McDevitt and Mary McDevitt.
See: Chart F424

Her actual birthplace is unknown but it seems likely that she would be from the area where Thomas, her husband was born, either Ardara, Co. Donegal, or Killybegs, Co. Donegal, Ireland.
1841 UK Census:
Catherine is given as age 36, see 1841 Census Records.
1851 UK Census:
Catherine is given as age 44, a Coastguard's wife, see Filey 1851 Census Records.

1861: UK Census::
Catherine was living with her husband Thomas and family in Filey, see Filey 1861 for details.

1873: Catherine Crimlisk died in Filey.1

See: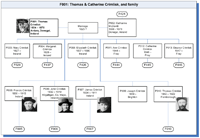 ---
Sources:
1) FreeBMD: GRO Volume 9d Page 240, accessed 21st October, 2013.
N.B. The GRO Index has Catharine as Catharine Crimless.

2) Scarborough Maritime History: The first of the Crimlisks" has several notes relating to Catherine.


---