Frances Powley, Filey, 1919 - 1976

P090: A.k.a. Frances Crimlisk by marriage, Frances Powling (clerical error) in the marriage index.
b. 1919;
m. 1946;
d. 1976.
1919: May 1919: Frances Powley was born in Filey.1
1946: Frances Powley married John Crimlisk in Filey. See the wedding photograph.
1947: Graham J Crimlisk was born in Filey.
1976: 9th August 1976: Frances Crimlisk died.3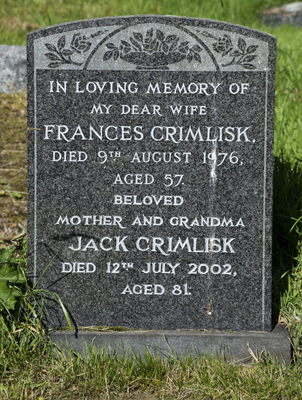 See: Chart F183

---
More images relating to Frances Willis Powley

---
Sources:

1) FreeBMD:
GRO Scarborough Volume 9d Page 494

2) FreeBMD:
GRO Buckrose Volume 2a Page 33. N.B. The GRO Index is typed as "Powling" in error.

3) Monumental Inscription, see image above
Photographs and some biographical details courtesy Penny Crimlisk / Ian Elsom.

---