John Crimlis, Filey, 1920 - 2002.
P183: A.k.a. Jack Crimlisk
b. 1920, Filey;
m. 1946;
d. 2002.
Photograph: Courtesy Penny Crimlisk
John was the fourth and last child and first son of John Crimlis and Sarah Ann Scales.
See: Chart F198

1920: 18th August 1920: John was born in Filey.1
1946: John married Frances Powley in Filey. 2
See the wedding photograph.
1947: Graham J Crimlisk was born in Filey.
2002: 12th July 2002: John died.3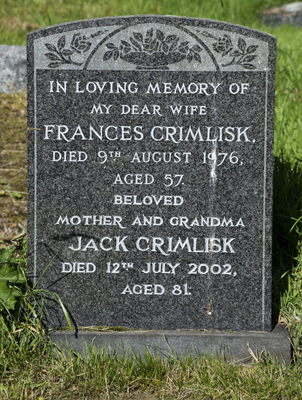 See: Chart F183

---
More images for John (Jack) Crimlisk

---
Sources:
1) FreeBMD:
GRO Scarborough Volume 9d Page 764 (Crimlis), accessed 8th May, 2013.

2) FreeBMD:
GRO Buckrose Volume 2a Page 33 (Crimlis), accessed 8th May, 2013.
Notes: The GRO summary shows "Powling" rather than "Powley".

3) Monumental Inscription, see image above

---
Cedits:
Photographs and some biographical details courtesy Penny Crimlisk / Ian Elsom.

---