Elizabeth Crimlis, Cleggan, Galway, ireland, 1837 - 1890

p008: A.k.a. Elizabeth Crimlisk, Elizabeth Ann Day:
b. 1837, Cleggan, Galway, Ireland;
m. 1863 to William Day;
d. 1890 Leeds, Yorkshire.
Elizabeth was the third daughter and sixth child of: Thomas Crimlisk and Catherine McDevitt.
See: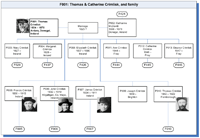 1837 / 1838: Elizabeth was born in Cleggan, Co. Mayo, Ireland. For a list of older siblings see Thomas Crimlisk.1
1838: Elizabeth left Ireland as a "the baby Crimlisk" in Thomas Crimlisk's family and moved to: Rottingdean, Sussex, England, and then Flamborough, Yorkshire, before moving to Filey, Yorkshire.

1863: (Q1): Age 25, Elizabeth married William Day and settled in Leeds, Yorkshire. Her maiden surname is transcribed as "Crimlis" in Free BMD.2
1886: Elizabeth's father, Thomas lived with Elizabeth and William in his final years before his death in 1886.
1890: Elizabeth also lived in Leeds until her death at the age of 53 years in 1890. FreeBMD shows "Elizabeth Ann Day", and Yorkshire BMD shows "Elizabeth A Day".3
A number of children bearing the surname "Day" were born in Leeds between 1863 and 1890, we have not investigated which, if any of these belonged to William and Elizabeth.
See: Chart F426

---
Sources:
1) Birth date taken from 1841 census, aged 4 years.
2) FreeBMD: GRO Scarbro Volume 9d Page 466
3) FreeBMD: GRO Leeds Volume 9b Page 349

---