Joseph Crimlisk.
P009: A.k.a. Joseph Crimbish1 by deviant transcription
b. 1839;
d. 1855.
Joseph Crimlisk was the fourth son and seventh child of: Thomas Crimlisk and Catherine McDevitt, see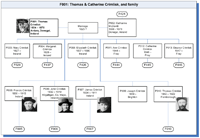 1839: 16th January 1939: Joseph Crimlisk was born1 at Rottingdean, Sussex, England, the birth being registered in the district of Newhaven.

1841: UK Census:
Joseph Crimlisk was present with his parents in Flamborough, see Flamborough 1841.

1851: UK Census: 2
Joseph Crimlisk was recorded with his parents living in Back Road, Filey, age 12, a scholar, see Filey 1851.
1855: 24th October 1855: Joseph Crimlisk died at sea on the S.S. Courier in the Black Sea during the Crimean War. He was nearly 17 years old and was buried at sea.3

---
Sources:
1) FreeBMD: GRO Newhaven Volume 7 Page 377
N.B. The handwritten index has been quite reasonably but incorrectly interpreted as "Crimbish".
2) Family Search:
England and Wales Census, 1851 - index
Reference:
"England and Wales Census, 1851," index, FamilySearch (https://familysearch.org/pal:/MM9.1.1/SG1B-Z8M : accessed 24 Sep 2013), Joseph Crimlisk, 1851.
Notes:
GRO details not available.
3) Information provided by the Crimlisk-Fisher Archive.

---