Ann Crimlis, Filey, 1843 - ?
P011: A.k.a. Ann Crimlisk, Ann Daniel:
b. 1843 Filey;
m. 1871 to Charlton Daniel;
d. ?.
Ann Crimlis was the ninth child of 13, and the fourth daughter of: Thomas Crimlisk and Catherine McDevitt.
See: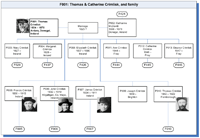 1843: (September) Ann Crimlis was born1.

1851: UK Census:
Ann Crimlis, a scholar age 7, was living in Back Road, Filey, with her parents and nine siblings. See Filey 1851 for details.

1861: UK Census:
Ann Crimlis was a House Servant, aged 17. See Filey 1861 for details.

1871: (September) Ann Crimlis married Charlton Daniel, a sailmaker.2
1871: Annie Crimlisk Daniel was born
1877: Charlton Daniel died aged 30
We have not yet established a date for Ann Crimlis's death, and it is possible that she married a second husband.
Ann Crimlis is recorded here as a "Crimlis" in line with her marriage record and the chosen name of her siblings, however, her daughter was given a middle name of "Crimlisk", so the spellings may be interchangeable.
See: Chart F444

---
Sources:
1) FreeBMD: GRO Scarboro' Volume XXIV Page 475 or 478 (the scan is unclear).
N.B. The GRO Index has Ann as Ann Crimliss.

2) FreeBMD: GRO Scarboro' Volume 9d Page 499

S006.1,
---