Lawrence Wiliam Jarvis, Hull, 1909 - 1966

P552: A.k.a. "Laurie".
b. 1909;
m. 1933;
d. 1966.
1909: Lawrence Wiliam Jarvis was born in Hull in 1909.1
1933: Lawrence Wiliam Jarvis married Ellen Crimlis in St Luke's Church, Hull.2, 3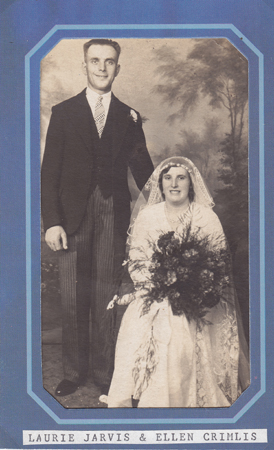 Laurie was a Hardware Merchant and General Trader, owning various shops in Hull known as "Laurie's"4.

1935: Una Jarvis was born.
1944: Laurie was present at the wedding of Cyril Parkinson and his Sister-in-Law Mary W Crimlis.
1944: Eddie Thomas Jarvis was born.
1966: Lawrence Wiliam Jarvis died in Hull at the (original) Hull Royal Infirmary.3, 4

See: Chart F552

---
Sources:
1) FreeBMD: GRO Hull Volume 9d Page 273
2) FreeBMD: GRO Hull Volume 9d Page 736
3) Yorkshire BMD: S003.
4) Eddie Jarvis, Grandson, e-mail February 2012.

---