Ellen D Crimlis, Hull, UK., 1915 - 1952

P131: A.k.a. Ellen D Jarvis by marriage
b. 1915 in Hessle or Hull;
m. 1933 in Hull;
d. 1989.

Ellen was the first child of Tom Crimlis and Una Gladys Clubley.
See: Chart F068

1915: Ellen's birth was registered in Hull.1
1933: Ellen married William Jarvis in St Luke's Church, Hull.2,3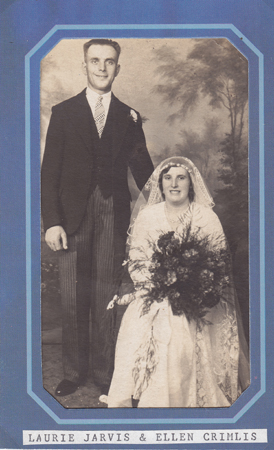 1935: Una Jarvis was born
1944: Ellen was present at the wedding of her younger sister Mary.
See Mary's wedding day group photograph.
1944: Eddie Thomas Jarvis was born.
1989: Ellen died.4

See: Chart F552

---
Sources:

1) FreeBMD:
GRO Sculcoates Volume 9d Page 329, accessed 19th November, 2013.

2) FreeBMD:
GRO Hull Volume 9d Page 736, accessed 19th November, 2013.

3) Yorkshire BMD:




4) Conversation with John Crimlis, 24th January, 2012.


---