Tom Crimlis, Filey, 1892 - 1972

P068:
b. 1892;
m. 1914;
d. 1972.
Images: Tom Crimlis.
Photographer: unnown.
Reproduced by permission of John Crimlis, son.

Tom was the sixth child and fifth son of Joseph Crimlis and Mary Wheeler.
See: Chart F016

1892: 6th February, 1892: Tom was born in Chapel Road, Filey, UK., his birth being registered on 7th March1.
1892: 5th March, 1892: Tom was baptised2 in the Primitive Methodist Chapel, Filey.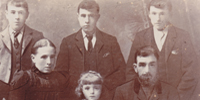 1901: UK Census:3
Tom, age 9 was living with his parents at 23 Chapel Street, Filey, See Filey 1901 for details.
1911: UK Census:4
Tom, age 19, was living with his parents in Hessle Road, Hull, and working as a Fish Fryer in his parent's business. See Hull 1911 for details.
1914: 5th July, 1914: Tom married Una Gladys Clubley in SS Mary and Peter, Dairycoates, Hull, UK. Witnesses to the marriage were Joseph Crimlis and Doris Clubley, Una's father being John Robert Hunton Clubley.5
1915: Ellen D Crimlis was born
1916: Joseph Crimlis was born
1920: Ronald Crimlis was born
1924: Mary W Crimlis was born
1928: Frederick Crimlis was born
1930: John RH Crimlis was born
1930: Una Gladys Crimlis died.6

See: Chart F068

1939 - 1941: Tom was living at 1 Percy's Terrace, Rugby Street, Hull and was registered for Civil Defence Warden services.7

1940: Tom married Lilian Emms.8
1941: Glynis Crimlis was born.
1944: Tom was present at the wedding of Cyril Parkinson and his daughter Mary Wheeler Crimlis.
1972: 6th February 1972: Tom died of pneumonia in the Kingston General Hospital, Hull. His profession is given as "Plumbers Mate (retired)", and resident at 217 Blenheim Street, Hull.9

See: Chart F068a

---
Sources:
1) Birth certificate. (Crimlisk)

2) Baptism certificate. (Crimlisk)

3) Findmypast: PRO RG13, Piece 4528, Folio 33, Page 4. (Crimlis)

4) Findmypast: National Archive Ref: RG14 PN28637 RG78 PN1646 RD521 SD4 ED27 SN7. (Crimlis)

5) Marriage Certificate. (Crimlis)

6) FreeBMD: GRO Hull Volume 9d Page 339 (Crimlis), accessed 5th November, 2013.
Accessed 12th October, 2013.

7) Hull History Centre: Registration of personnel for Civil Defence:
Reference: C TYR/1, accessed 12th October, 2013.

8) FreeBMD:
GRO Hull Volume 9d Page 781 (Crimlis), accessed 5th November, 2013.
Accessed 12th October, 2013.

9) Death certificate. (Crimlis)

---