1919 - The Emulator Disaster
The loss of the FV Emulator was reported in the local newspapers and documented by Ian Elsom on "Looking at Filey":
The story was written up by Susan Pollard and is available:
Click Story of the Emulator to download.

The Loss of the Emulator
Extract from the Scarborough Maritime heritage website in an article relating to Suzanne Pollard:
Quote:
Richard Baxter Cowling was lost at sea when the Emulator hit a mine in 1919. It had left port on 15th April 1919. It had left port with two other vessels heading for fishing grounds adjacent to Scarborough. A huge explosion was heard on board the Tryphana and a search was launched. When nothing was found she went back to Scarborough Harbour.
The Scarborough Mercury stated, "The report spread rapidly to Filey, where the greatest anxiety naturally prevailed and repeated enquiries for news were made by telephone to Scarborough. Hopes were built up on the uncertainty of the news, and it was certainly too early to suppose that if the Emulator had been destroyed the crew had been picked up". But the reports were confirmed.
The crew were all lost. They were :
Richard Baxter Cowling
Richards cousin William Jenkinson, First Mate.
His Nephew Thomas Jenkinson (William Jenkinsonís son)
Richard Cammish Jenkinson, who ironically, had only recently returned from war service in the Mediterranean where he had skippered a minesweeper.
Matthew Crimlisk (Skipper)
Matthew Crimlisk's two sons Thomas Robert and Wilfrid
Notes:
1) The Skipper was Matthew Crimlisk
2) A third son of the skipper, George M Crimlisk, was due to sail on the Emulator but was unable to do so until his demob papers arrived.
So it appears that the disaster which took Suzanne's Great Great Grandfather also took several other loosely related relatives as well.
The Emulator had just come from Grimsby at the weekend after being demobilised from naval service. William Jenkinson, Mr Richard Jenkinson and the skipper had only just bought shares in it. Another son of William Jenkinson was also due to go out on the Emulator but he had not received his demobilisation papers.
Newspaper reports: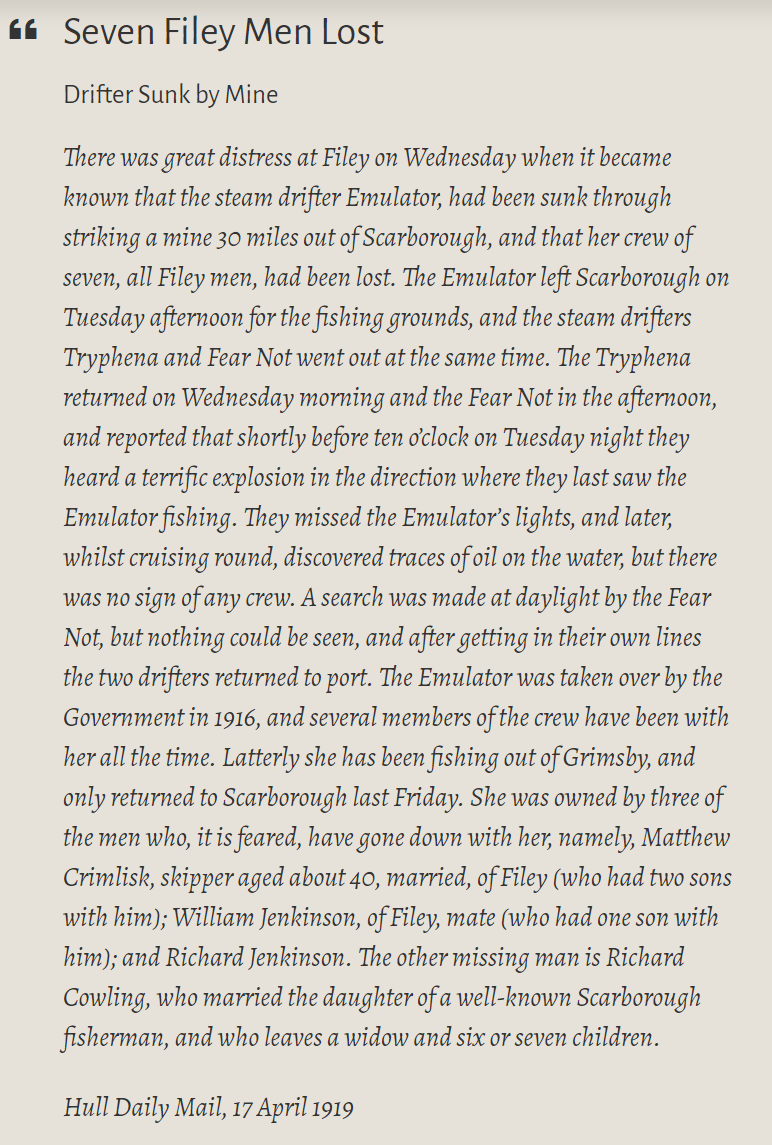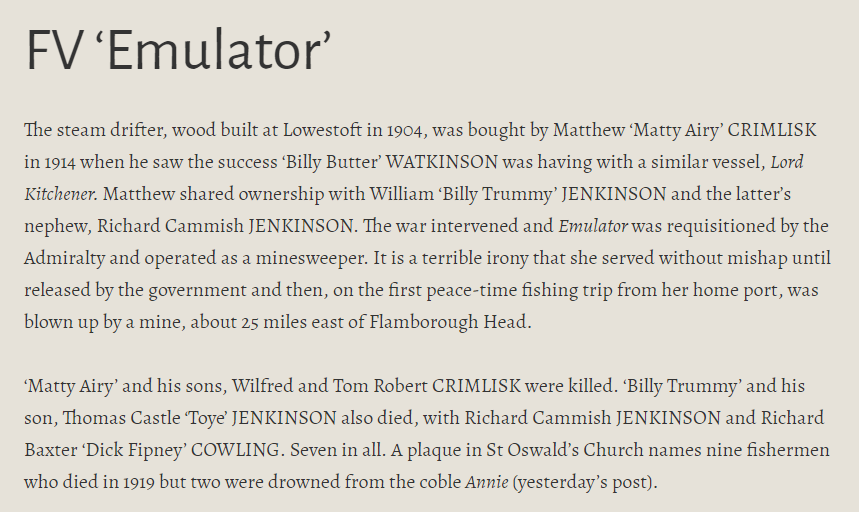 The names of the lost crewmen are recorded at the Tower Hill monument2.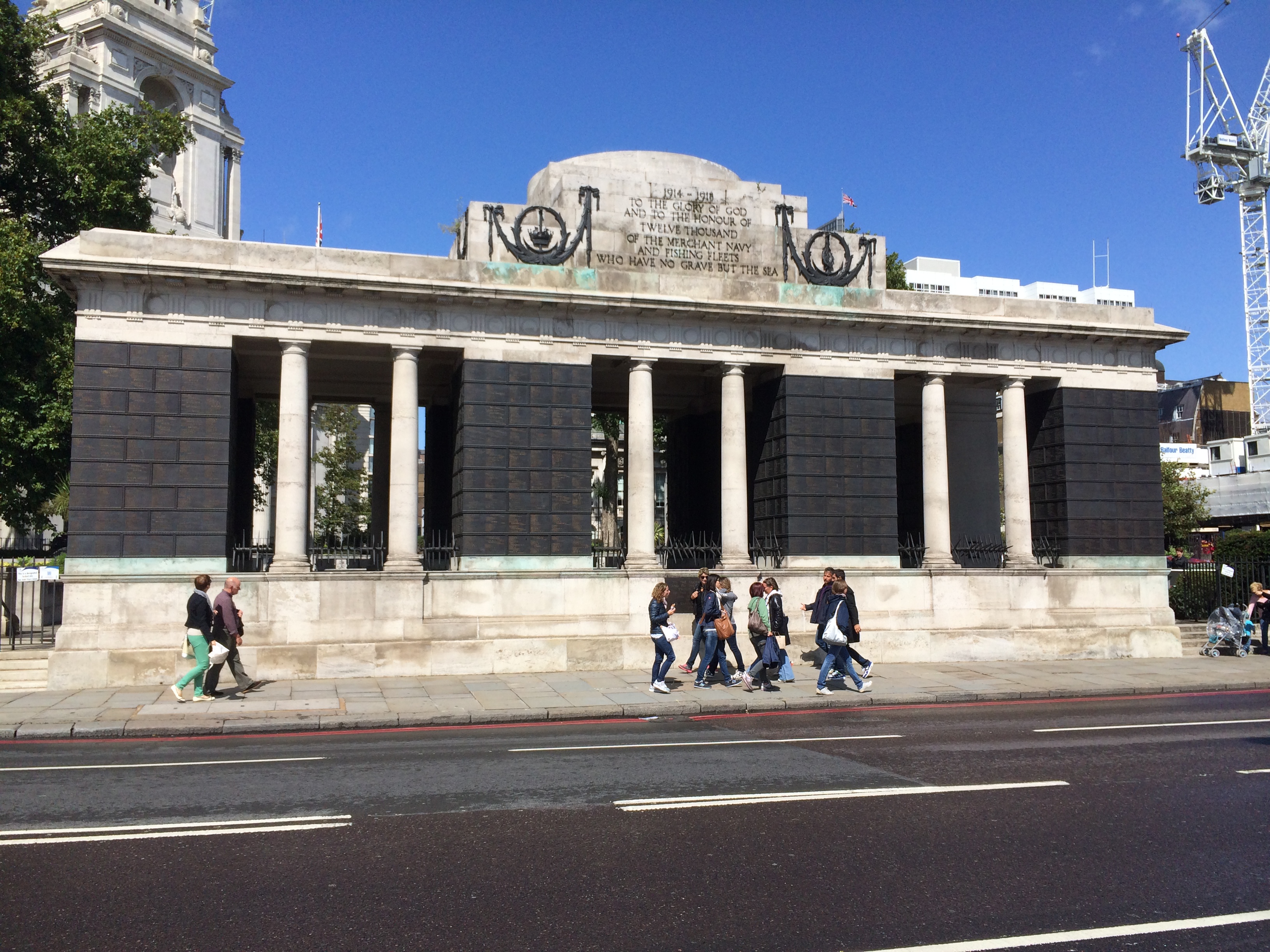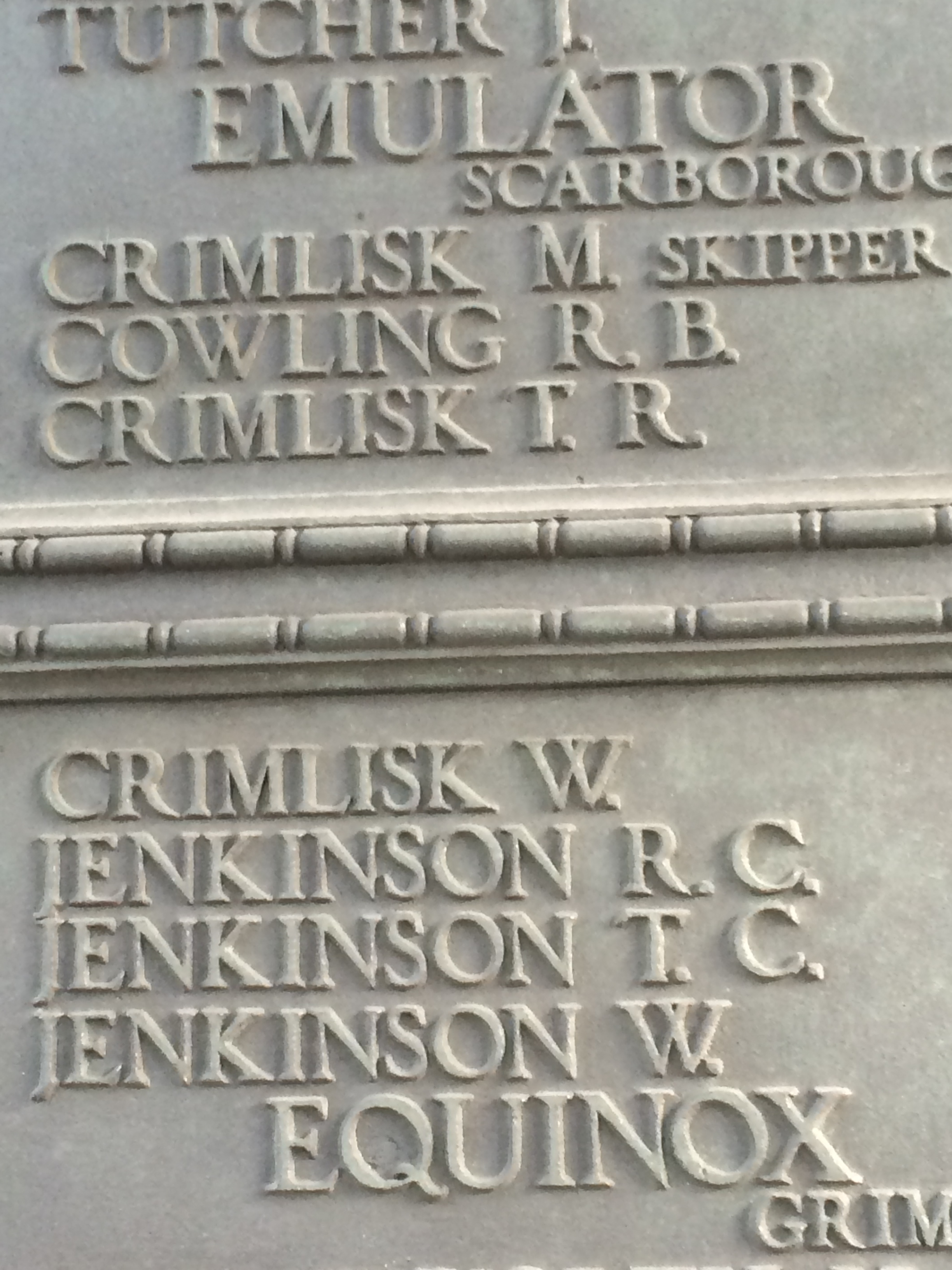 ---
Sources:

1) The document from Suzanne Pollard references her family research together with the Scarborough Mercury of April 17th, 1919, and was downloaded from the Scarborough Maritime Heritage website.

2) Shaun Milner
Images were supplied by Shaun Milner, a descendant of the skipper.


---