George Matthew Crimlisk, Filey, 1895 - 1975

P054:
b. 1896;
m. 1921;
d. 1975.
George Matthew was the second child and first son of Matthew Crimlisk and Hannah Cross.
See: Chart F020

1895: 14th December, George Matthew was born in Filey.1,5

1911: UK Census:2
George Matthew, age 15 was living with his family at 15 Queen Street, Filey, see Filey 1911 for details.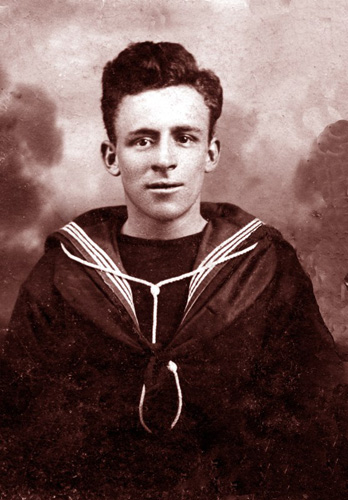 1919: George Matthew's father, Matthew Crimlisk died in the emulator disaster.
Following this, George Matthew was demobbed and joined the 'Triffin' - a steam drifter. After about six months his mother Hannah sold the nets on the 'Triffin' which she owned, and George Matthew left the sea to set up business as a fish buyer in Scarborough. He wasn't successful so, after various odd jobs, including working on a dredger in Hull, in the autumn of 1920 he joined his uncle coxswain Robert Cross as a lifeboatman at Spurn Point, first on the 'Samuel Hawkins' then, after the building of the new slipway, on the 'City of Bradford' - where, with the others, he was awarded a vellum presented by the Duke of Windsor, then Prince of Wales.

1921: 25th June, 1921: George Matthew married Dorothy Avery. 3
(Click here to see their wedding day photograph.)

1922: Dennis Crimlisk was born
1923: The City of Bradford Lifeboat Crew were visited by HRH The Prince of Wales, see Royal Visit - photograph.
See also City of Bradford Lifeboat Crew - photograph.
1931: George was present at the wedding of his sister Kathleen, see wedding day photograph.
1935: Anthony Crimlisk was born.
1939: Dennis Crimlisk died age 16 years.

1975: George Matthew died on 7th January 1975.4

See: Chart F054

---
Sources:

1) FreeBMD:
GRO Volume 9d Page 345

2) Find My Past, 1911 Census,
Ref: RG14PN28919 RG78PN1665 RD527 SD1 ED3 SN168. N.B. The family is listed as "Crimlish".

3) FreeBMD:
GRO Volume 9d Page 793 N.B. George is isted as "Crimlick".

4) Tony Crimlisk website:
Tony Crimlisk website.

5) National Archives:
Collection: Records of the Board of Trade; Date range: 1908 - 1955; Subjects: Merchant Seaman | Navy
Reference: BT 377/7/54305.
Index accessed: 5th February, 2014.


---