Margaret Crimlisk
P004: A.k.a. Margaret Crumlish3, Margaret Casy by marriage
b. 1828, in Dunaff, Dunaff Head, Co. Donegal, Ireland.
m. 1846:
d. unknown.
Margaret Crimlisk was the second child and second daughter of Thomas and Catherine Crimlisk. See: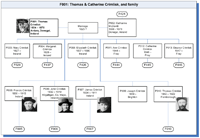 For details of places where Margaret Crimlisk lived from birth until 1846, see Thomas Crimlisk details
1828: Margaret Crimlisk was born at Dunaff, Dunaff Head, Co. Donegal, Ireland.1

1841 UK Census:
Flamborough, Margaret Crimlisk was aged 13.
1846: (Q4): Margaret Crimlisk's marriage to Edward Casy was registered in Hull in the last quarter of 1846.2,3
1854: Catherine Casy was born

1861: UK Census:
Catherine Casy was living with Grandparents in Chapel Street, Filey. See Filey 1861
See: Chart F437

---
Sources:
1) Scarborough Maritime Heritage: Thomas Crimlisk - First of the Crimlisks
Accessed 11.10.2013.
Note:
The article was written by John Cambridge Crimlisk, 1916 - 1998.

2) FreeBMD:
GRO Jull Volume XXII Page 359 .
In "Free BMD" she is transcribed as Margaret Crimlisk.
Accessed 11.10.2013.

3) Yorkshire BMD.



Accessed 11.10.2013.
Note: Yorkshire BMD has Margaret transcribed as "Crumlish", see image:


---